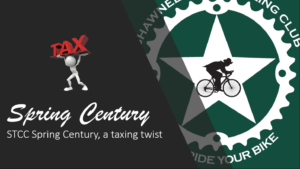 Wheels Down: Saturday, April 15, 2017  7:30 am
» Ride Queries
» Club Waiver Policy
Block that date and file those taxes early so you can participate in the most twisted century (oh, that's supposed to read "with a twist")!  This is a club century you are definitely going to want to attend.
Updated Parking Information (updated Apr 14)
Due to the proximity of the 1/2 Marathon / 5K at Collin College, you will be restricted as to how you can get to our start.  Additionally, because they've designated our normal parking area as "overflow parking", we have permission from the ISD to set up behind the school (see map below).  Do not park anywhere else, unless instructed by someone from STCC.
Some of us are arriving early, so that you should be able to find the STCC tents and banners already setup.
When arriving from the west, please come from Wade and enter the first entrance into the parking lot, weaving behind the school to our setup.   If there is anyone directing traffic that questions why you are there, tell them you are with the bicycle ride.
The other option for arrival is from Lebanon (south).  Take the first entrance south of the ISD Administration Building (multi-story office) and follow the road behind the building to our setup.
What should you bring? (updated Apr 14)
STCC will be providing minimum SAG pickup.  We will also have a tent setup at CTEC (behind the school) with some snacks and drink.  Our designated stops are businesses and not there for our pleasure.  Use the restrooms, refill your water, but please BUY SOMETHING (even if its just a pack of gum).
All STCC ride rules are in effect.  This is NOT a rally, but an organized group ride.  No Drop.  No getting into the aerobars. No earbuds (NONE).  You are, as always, considered a vehicle on the road and are expected to obey all traffic laws.
You should come prepared to:
bring tubes, CO2 and tools necessary to fix a flat or minor mechanical.
Ensure your bike is maintained and in good working order
Bring your own nutrition and drink.  Gu, Hammer Gel, PB&J - whatever your experience tells you that may be necessary.
Ride starts at 7:30 and with the 1/2 Marathon going on, we want to leave as soon as we can to avoid returning runners.
Last of all - MAKE SMART CHOICES when selecting groups.  The distance for this group ride is more than normal.  Going for distance, not speed - pace yourself.

To help you make the "good choice" when selecting a Shawnee Trail Cycling Club ride, we have made an attempt to rate each ride based on a combination of factors.  We have selected what we consider the most important criteria, including pace, distance and terrain.
Please take into account that these ratings are based on someone of average fitness.  If your fitness is above or below the average participant, you may find these rides much easier or far more difficult to complete.
For example when looking at the Saturday CPS C pace group, it has a pace of C (3) + a distance of 45mi (4) + rolling hills throughout the ride (5) for a total overall rating of 12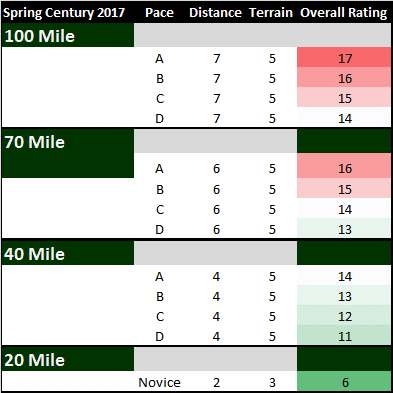 ---