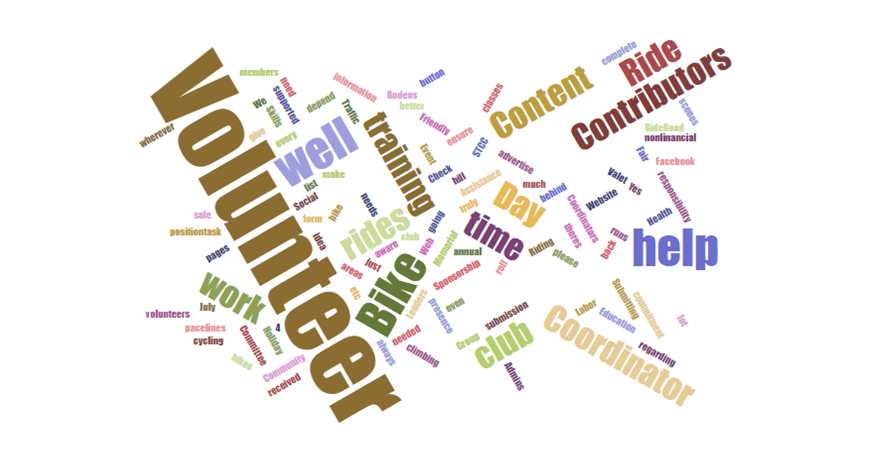 As you are aware, this club runs on volunteers. Yes, we ride our bikes - its what we do - we are truly a "cycling" club. But to ensure those rides are safe and roll every time we advertise, there's a lot of work that is done behind the scenes. And rides are only a piece of what we do. We depend on our members to help wherever they can, on and off the bike. The reward is overwhelming!
To give you an idea, these are just some of the areas where we always need help
Social Media
Facebook Admins for our Bike Friendly Community pages supported by STCC
Social Media Administrators for our Facebook, Twitter, Strava, Instagram pages, etc
Education
Education, help with our Traffic Skills, Group Ride/Road Riding classes and training for our Ride Leaders - as well as much needed training for pacelines and hill climbing.
Events
Event Coordinators for our

Bike Rodeo's, Bike Valet, Health Fairs, Rest Stops and any of our annual Holiday rides (Memorial Day, July 4, Labor Day, etc.)

Our events can always use general volunteer help
Marketing and Member Outreach
Graphics Artist
Newsletter Editor
Brand Promotion
Sponsorship
Sponsorship Coordinators
Pursuing new sponsors
Promoting current sponsors
Keeping sponsors updated and involved
Website
Administrators
Web Content Coordinator
Website Content Contributors
Committee Work
Social Committee
Elections
Kit design
Community and Advocacy
Adopt a Street Coordinators
Bicycle Advisory Committees
Donation Program (bike racks, repair stands, etc)
Street repair contacts
Click the button below for the complete list of needs and please, if you have the time, work to make your club even better!
Submitting the form is not a commitment.
Once your submission is received, we'll be back to you with more information regarding the responsibility of that position/task.