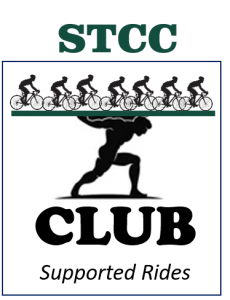 In recent years, there has been a trend of using social media sites like Facebook, Meetup, Twitter and other platforms to organize rides and social gatherings for cyclists.  This has been a boon to cycling and no one would want to discourage friends and small groups from getting together for the purpose of riding their bikes.  However, more and more we are seeing these social outings grow into full blown group rides, attempting to emulate the controlled and safe rides of organized clubs, like Shawnee Trail Cycling Club (STCC).
Don't be fooled into thinking that you can have the same worry free ride with these type of groups as you can with a well-run club. If your Meetup Group or social ride has grown to more than two or three people, we encourage you to explore the protection, benefits and safety of a club sponsored ride instead.  There are many, many reasons to join a club supported group ride.  We thought we would briefly detail some of the topics we feel most important for you to consider.   We'll be covering these one at a time, adding a new topic every week, so visit us often!
Our topics fall into one of three categories.  Some topics have multiple benefits.
Protection: Protecting you legally or assisting financially in the event of incidents on your ride
Safety: Things put in place to better insure the safety of the individual while on one of our rides
Comfort: Things the club provides to give you a higher level of comfort and confidence while on our rides
Point #1
Liability Waivers. If you ride in a group, regardless of size, that doesn't insist on all participants' agreement to a waiver, think very, very hard about whether you should be there.  Well organized clubs will have processes in place to ensure that all on the ride are either club members, who have agreed to the waiver conditions when joining the club, or are non-members that have signed the waiver prior to participating.  Most people think the waiver is to protect the club from litigation and, although that is true, it also provides some protection to all participants.  Everyone participating has agreed, among other things, not to sue "other participants".  This applies to club members and non-members alike.  If you are a non-member participating in the ride and avoid signing the waiver and something happens on the ride, you are considered a non-participant and have none of these liability protections.  Protection
Point #2
Supplemental Medical Insurance. This is perhaps one of the most important benefits of participating in a group ride. Yes, safety is of paramount concern and your club goes to great extents to ensure that.  But, no matter what you do, things do happen and when they do we want to be there to back you up. With that in mind, STCC carries a supplemental insurance policy that covers all current club members while on an approved group ride. What that means to you is this: in the unfortunate event that there is an accident and you are injured seriously enough to require medical attention, our club insurance will cover a portion of your out of pocket expenses. With our safety record, we are fortunate to have not had to use this often, but those members that have will tell you this is a fantastic benefit. We can give the details to anyone requesting, but here's an example:
You have an accident, go to the doctor, hospital etc and the bill is $8,000.  Your insurance covers $6,400 and you get a direct bill for $1,600. With some restrictions, you should be reimbursed for a good portion of that $1,600. Think that protection is worth your $25 annual membership? Protection
Point #3
Trained Ride Leaders.  Trained Ride Leaders. Clubs like STCC invest many, many hours working with our Ride Leaders to ensure your safety and to make sure you have the best experience possible. Our Ride Leaders do far more than sit in the group and ensure you make the next right turn. Most of our Ride Leaders have received CPR training. They are familiar with how to handle accidents, abusive drivers, deal with law enforcement and medical emergencies like heat exhaustion. They understand how to deal with cyclists that have picked the wrong group and make sure every participant gets back home safely, many times giving up their normal ride to do so. Protection:Safety:Comfort: 
Point #4
Knowing you Don't Have to Ride Home Alone. Relatively unique in North Texas, but not to cycling clubs in general, is STCC's "no drop" policy on each and every one of our rides. To you, this means if you are having a bad day physically, have a mechanical or for whatever reason you cannot keep up with the group as a whole, we do our best to get you home safely. Sometimes this means slowing the pace of the group and other times it means one of our dedicated Ride Leaders steps back to accompany you to the start. There's nothing worse than being in a group, where you don't know the route and everyone leaves you because of their "drop" policy – leaving you to come up with a Plan B. We have picked up so many cyclists over the years, most new to the area that have gone out with groups and have been left on their own, spending most of the day hopping from one convenience store to another to find their way home. Your safety is paramount on our rides, and this is a huge part of that. A concern that our Ride Leaders and members take very seriously. Safety:Comfort: