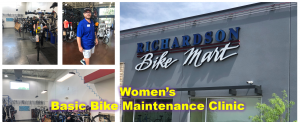 When: Thursday June 17, 2021 6:30pm
Where: Bike Mart Frisco, 8820 John Hickman Pkwy, Frisco, TX 75034
We have so many new members in 2021 and so many of you are women. Its a warming site to see all the new cyclists on the road showing their STCC colors. One thing we've noticed is that many of our new members, and just as many "experienced" ones don't know the basics of making the minor repairs you might need to perform when things happen on a ride. Over time, we've also learned that the questions can be very different when coming from our women members.
So, working with Bike Mart Frisco, we are offering a Basic Bike Maintenance Clinic just for the ladies. Your instructor will cover changing a flat and making basic adjustments and repairs, giving you the knowledge to get your bike going and to make it home from your ride.
This is for STCC members only
It is FREE!
Class is limited to the

first 20

members signing up. That means we need you to register. Its important for the instructor to have an idea of how many are coming. We appreciate your help here.
You'll need to bring your own bike. After all, how else would you learn to make your own repairs and know what to expect when things happen on your ride.