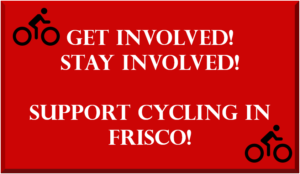 This page is our attempt to keep you up to date on cycling related topics being considered by the Frisco city government.  We'll do our best to make you aware of any items related to cycling that show up on the agenda of your City Council or any open Board meetings.
There may come a time when your presence is needed at a Board or council meeting.  Visit often and be ready to attend these meetings to represent the cycling community in person to show your support and voice your opinion.  We'll also post a need on the STCC FB Group page
Have you seen the section of city streets being used to prove signage and other bike facility types?
Frisco City Council meeting 6-Mar-2018 - AGENDA.

Public Works and Engineering report on activities related to

roadways

,

traffic control and transportation.

Parks and Recreation Monthly Report regarding

Park and Trail Development, Facilities

No specific action required.  Next meeting 20-Mar

Parks Board meeting 8-Mar-2018 - AGENDA.  No cycling related topics on the agenda.

No action required.  Next meeting 22-Mar

Planning and Zoning Board meeting 12-Mar-2018 - AGENDA.  Update on Natural Space.

No action required.  Next meeting 27-Mar
Want to get involved with cycling plans and issues in Frisco?  Contact us and we'll find a place for you!
This page is for topics in the City of Frisco.   See other pages related to [The Colony], [Little Elm], [Prosper] and [McKinney]