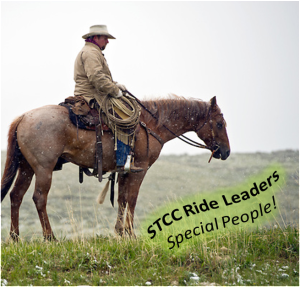 There are many correlations between the jobs1 that were required on the cattle drives of the Shawnee Trail (our club namesake) and those of our Ride Leaders.  As with those rugged individuals of days long ago, our own leaders find that ride safety and getting everyone home unharmed is paramount.  Shawnee Trail Cycling Club Ride Leaders are responsible for the general conduct of the ride they are leading. The Ride Leader should try to assure the ride is conducted for the mutual enjoyment and safety of all participants.
A Ride Leader for Shawnee Trail Cycling Club..
Is a shepherd and mentor, one who cares for and guides their group

Is proactive and addresses safety concerns quickly

Is a positive, enthusiastic and helpful mentor to riders

Helps create a fun and safe environment

Looks through the eyes of all riders, new and experienced

Understands that there are different riding styles
---
Shawnee Trail Cycling Club recognizes that all Ride Leaders are volunteers who are giving of their own time to support the organization, it's core values and club mission.  These individuals do so many things and play such an important part in the success and safety of our rides and they are not recognized nearly enough.  We are always looking for willing and capable cyclists to become Shawnee Trail Cycling Club Ride Leaders.  Contact our Ride Coordinator if you're interested.
The Shawnee Trail Cycling Club Ride Leader