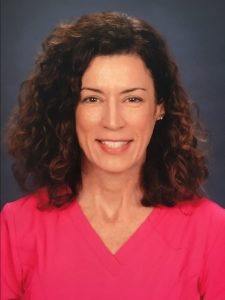 We want to welcome Carroll Deighton MSN, RNC-OB, C-EFM to your Board of Directors as an Ex Officio member.   Several years ago, we created non-voting positions on our Board to be filled by individuals that could provide advice and counsel to the Board on matters critical to our club.  Given the current environment and our experience with other issues in the past, we felt we were lacking input from medical and health professionals.
Although we have numerous doctors, nurses and others in the club, Carroll's addition to the Board will provide us with access to advice on both the current Covid-19 situation and the periodic issues we are confronted with that may have medical and or health implications with our club.  This will provide us an invaluable resource and further insure, as always, that our ride participants are cycling in the safest environment possible.
Most of you know Carroll from our rides, so we've included photos with and without the helmet.  We all need that.  She and her husband Brad have both been long-time members of STCC and participants on our rides.  Here's a personal message from Carroll.  We look forward to her participation in Board discussions and our efforts to keep you and yours safe and healthy.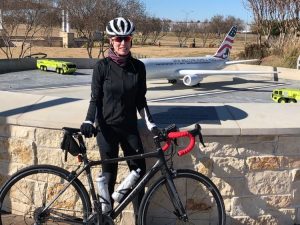 She has lived in Collin County for the past six years and has been a member of Shawnee Trail Cycling Club for about five years.  She has mountain biked in the past, but mostly road cycling for the past five years.
She has been a registered nurse for the past 32 years with a focus on obstetrics and certified in Basic Life Support/CPR and Advanced Cardiac Life Support. She is the Maternal Project Manager for Medical City Lewisville, which means she oversees quality and evidence-based patient care that is safe and provides a great experience. Her husband Brad also rides bikes and she has two adult kids that live in the area.
She tells us she loves this club and has made many friends on the group rides, including the leaders. We are looking forward to her help as a medical liaison for the club.