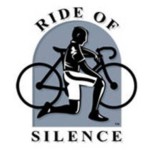 For the first time, on Wednesday May 20, Shawnee Trail Cycling Club will host a traditional Ride of Silence event.  In past years, we have set aside one of our Wednesday rides as our ROS event.  This meant we were riding at close to a normal pace, but giving remembrance and respect to our cycling colleagues that were injured or killed.
What you can expect…
We'll gather at CTE Center on the SW corner of Wade and Ohio, (our normal Wed Night Special start point and time 6:30pm), but on that night, we'll take a few moments to reflect, have a couple of special guests and someone will recite the Ride of Silence Poem.
The Ride of Silence...
Tonight we number many but ride as one
In honor of those not with us, friends, mothers, fathers, sisters, sons
With helmets on tight and heads down low,
We ride in silence, cautious and slow
The wheels start spinning in the lead pack
But tonight we ride and no one attacks
The dark sunglasses cover our tears
Remembering those we held so dear
Tonight's ride is to make others aware
The road is there for all to share
To those not with us or by our side,
May God be your partner on your final ride
- Mike Murgas
At about 7:00pm, along with all other groups around the globe, we'll then head out on a 8 mile reasonably flat ride, silent except for Ride Leader and safety commands.  This ride will average about 12mph, suitable for anyone that can maintain that pace.  Everyone will be required to wear a helmet and follow the rules of the road.  It's also recommended that you bring lights as it will be dusk by the time we roll back into the parking lot. And yes, as with all STCC sponsored rides, waivers will be required for non-members – but everyone is welcome and encouraged to participate.
Refer questions, contact us
For more information, visit the Ride of Silence website