Special edition tops (jerseys, jackets, etc) will all have the "club of the year 2018" emblem prominently placed for you to show to the world!
Welcome to the Shawnee Trail Cycling Club Store.  Here you'll find, when offered, jerseys, shorts and accessories to give you that sharp "STCC look" you've noticed on all your friends.  We even occasionally offer excess inventory and unclaimed items in our Clearance category.  Browse the categories and pick something you like.  Checkout is easy!   Go here for questions about our policy regarding Purchases and Refunds. 
NEW ITEMS: We have a couple of new offerings this time out and hope you take advantage.
One of your fellow members has been giving a pair of these bibs a field trial for the last 6 months or so and has the following to share"Ladies, if you haven't tried bibs, these are the ones to try.  Bibs eliminate waist band digging in, or a gap between your jersey and shorts. The suspenders don't tug at all, you won't even notice them.  The clip in the back of these bibs is easy to reach, making dropping your bottoms easy. No more completely undressing in a porta potty or gas station bathroom on a long ride.  I did find the chamois a bit bulky at first; however, after about eight 30 mile rides I was sold on them. I've now worn them for 45 mile Saturday rides as well. So plan to give them a little time to break them in.They run true to size. I'm 5'6" 120 pounds and the small fits great." – Jessica Goodell, STCC Member and Club Secretary

Youth Cycling Jersey.  Have that youngster at home that sees you roll out the door in your sharp looking STCC kit, gets a tear in their eye and says "someday…"?   That day is here!  We're offering a fully custom short sleeve STCC jersey just for them.   Comes in youth sizes XS to XL.
The store is open for our winter kit!

The store will be open through Sep 18, so order now!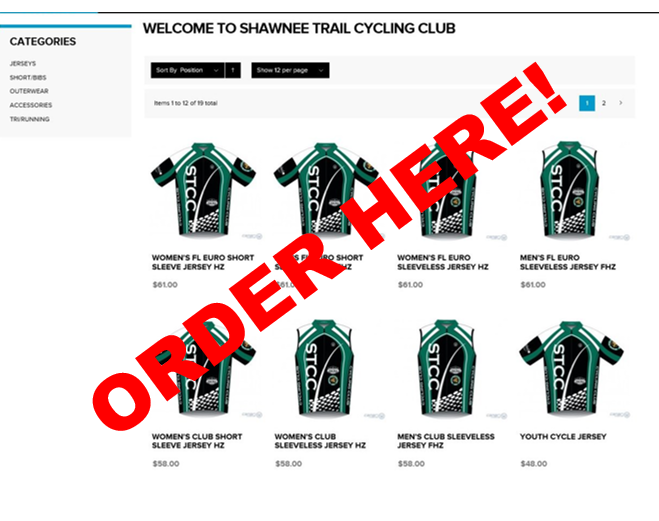 Canari is the manufacturer of our club cycling kit.   For sizing information, click the Canari logo 
Purchase your RoadID through this link and RoadID will contribute a percentage of the sale to STCC. This will not affect any discounts or sales prices to you. Browse other items for sale

WHEN WILL YOUR ORDER ARRIVE? Our jerseys, shorts, bibs, vests and jackets are custom ordered, meaning that we hold our store open for a limited time, accumulate orders and a bulk order is processed by Canari.  Once that bulk order has been processed, your kit should show up with us within 6-8 weeks.  At that time, availability will be announced via posts on our Facebook page, Twitter account, Club Newsletter and announced at all our rides.  We do not deliver and you will either have to pick the merchandise up at our ride starts or contact us to arrange pickup another time.