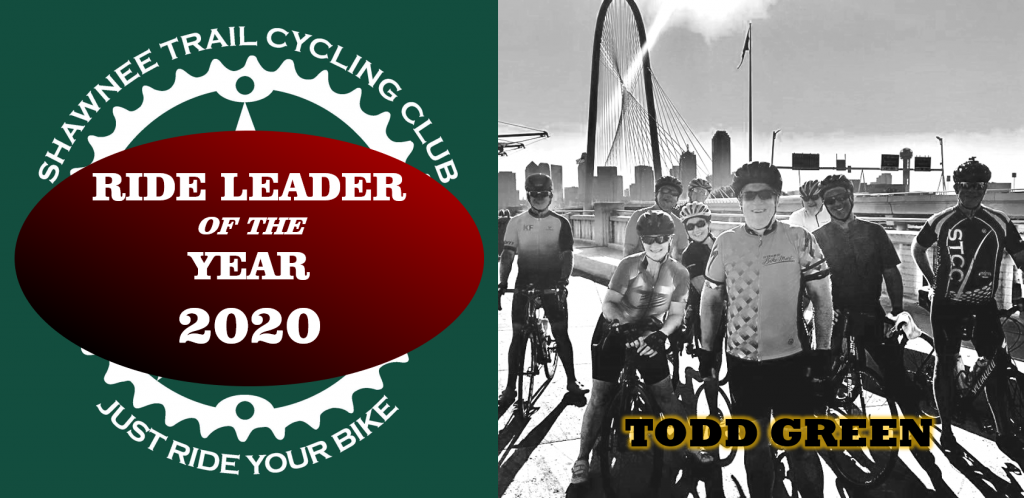 Join us in congratulating our 2020 Ride Leader of the Year, Todd Green!
From Mike Dwyer, our Ride Coordinator, "Eleanor Roosevelt once said "A good leader inspires people to have confidence in the leader. A great leader inpires people to have confidence in themselves." This years STCC ride leader of the year had their whole group increase from C to B pace. An anchor in a year full of changes, he provided a prolific ride base of adhoc 2020 rides. His patience and sense of humor carried the groups into the wind and up those west hills. Please help me congratulate STCC Ride Leader of the Year Todd Green."
In this bizarre and troubling year of 2020, Todd was key in not only maintaining our ride presence, but helping those on his rides thrive in this environment. Being a good teacher plays a big part in being a good Ride Leader. Along with everything else, education is the designated mission of this 501(c)3 non-profit you know as Shawnee Trail Cycling Club. Supporting that mission, and riding makes Todd's star shine that much brighter.
When we brought our rides back in July, with the Managed AdHoc scheme designed to increase the safety of participants in our groups, Todd was one of the FIRST to step up to lead. How active has our Ride Leader of the Year been? Firstly the Ride Leaders on this list have each contributed to STCC success and members continued good health during this period. But as you can see, just for our rides in the Covid era, Todd has led almost 100 rides and managed to get many many on the road, multiple times a week since we started this. Fun routes, increased paces have led to stronger riders and big smiles.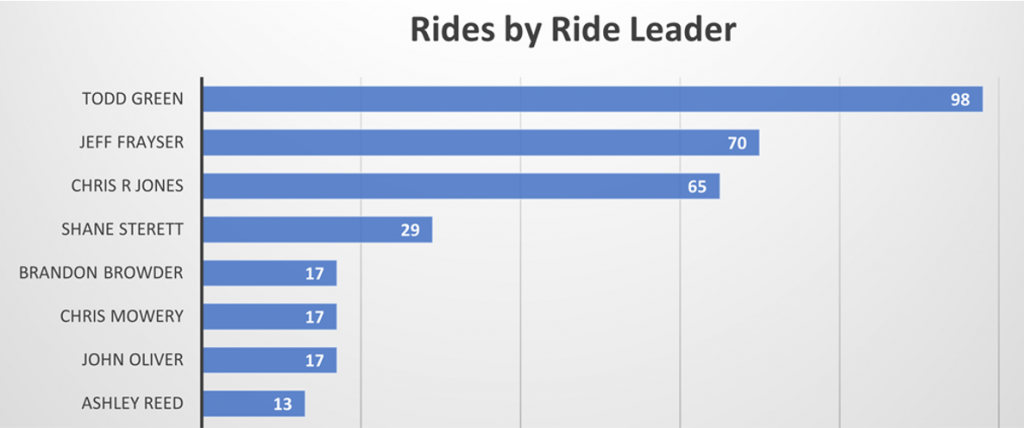 ---
We did notify Todd via a quickly planned Zoom call. I think we surprised him.
Since most of us can't be face to face (or mask to mask) with Todd to offer our congratulations, we're offering you a way to give something a little more lasting. A Kudoboard page has been set up so you can go there to give him your words of appreciation! Please take a couple of minutes to do that and look over what accolades others have thrown his way. Bring a smile AND a blush to Todd's face.
Todd will be given a plaque, putting him permanently on our wall of honor with other Ride Leaders of the Year.
Todd, Thank you so much for your contributions!