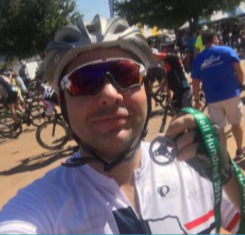 Please join us in welcoming Mike Kurz to your STCC Board of Directors.  Through a mid-term appointment by the STCC Board, Mike will assume the duties of the Director Advocacy, Community Relations and Education, vacant since 2018.  His term begins immediately and expires in December 2020.
This position requires a great deal of volunteer time and a dedication. Through education and maintaining relationships with local governments and law enforcement agencies, Mike will promote cycling in our communities.  This position requires a love of the work, with the only goals being to promote cycling and STCC.
Mike is a resident of Frisco and has been a member of Shawnee Trail Cycling Club since 2015.  You'll find he will bring an enthusiasm and energy to this position that will contribute to the success of your club.
I've included an excerpt from his bio.  If you want to know more, you'll have many opportunities in the coming year to chat with him on a club ride or at one of our events.
Mike is a Certified Financial Planner and has launched his own Registered Investment Advisory Firm.

Outside of the boardroom or classroom, Mike rides dirt bikes for fun, and enjoys cycling on both mountain bikes and road bikes. He is a life-long lover of all things with two-wheels and has raced motocross competitively with multiple top ten finishes at the prestigious AMA Amateur Motocross Championship. In addition, he has participated in several Hotter'N Hell 100 Bike Rides over the last fifteen years, has ridden the MS150 and has regularly participated in the Shawnee Trail Cycling Club rides.
Mike is proud to be a voting member of the Choctaw Nation of Oklahoma. Mike and his wife Melinda are 17-year residents of Frisco and have enjoyed raising their two children and family dog "Baxter" in this growing North Texas community.