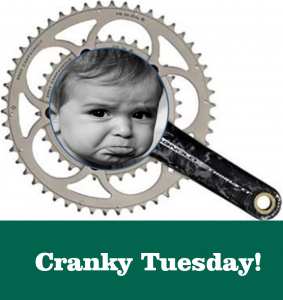 #crankytuesday has RETURNED!  We have pace groups taking off from the same start parking lot.  We have fallback points for some of the groups.  We have groups returning to the lot at about the same time.  Does all this sound familiar?  Well, it should. This is part of what you've been asking for and what we've been working on this for a while.  We want to thank our Ride Coordinator, Michael Deegan and his Steering Committee for working to put this together.  Best of all, this will be EVERY Tuesday going forward.  So get your CRANKY on!
Start and Logistics
If you attended out July 4th event, this will be very similar.  We'll be leaving from Toyota Stadium at 6:30pm.  The rides are still members only, for now and registration is required.  The registration allows us, among many other things, to ensure we have Ride Leaders available before we get to the start.  No more scrambling to get people to lead.  No more cancelled groups in the parking lot because we have no leaders.  It also helps us to do as we've always done with STCC to manage the size of our groups on the road. That's both for your safety and to show the community we can be responsible neighbors.
Registration will be by pace group (eg. A, B, C, D, Novice).   The rides are in the store.  Group sizes will be limited to the number of Ride Leaders available!  If there are multiple groups for the same pace rolling, we'll let you know at the start which Ride Leader(s) you are with.
Routes
As you've become used to, the route maps are available to you on the registration page.  From there you can download and if you have joined the STCC RideWithGPS group, you'll get many of the features that normally are only available through a paid account, free to you as a member benefit.
Fallback points will be identified on the route map prior to ride day.
Signup
Go to the store, choose your pace and join the fun!  Note: if you don't see any rides or the link doesn't seem to work, make sure you are logged in and that your membership is current
Other Things
What is a Fallback Ride?   For all of our new members and for those that have forgotten, because its been too long (way too long!), STCC has always been known to structure our rides so that there is usually an opportunity to fallback from the pace group you are on to a slightly slower one coming up behind.  The reasons for people making use of this vary, but it can be because you are struggling with the faster group or maybe you are trying to move up from your current pace but don't feel you can do the whole route.  You can do half the ride with the faster group and then finish with the other, a gradual change. And.. most importantly you do this safely without getting left on the side of the road by yourself.