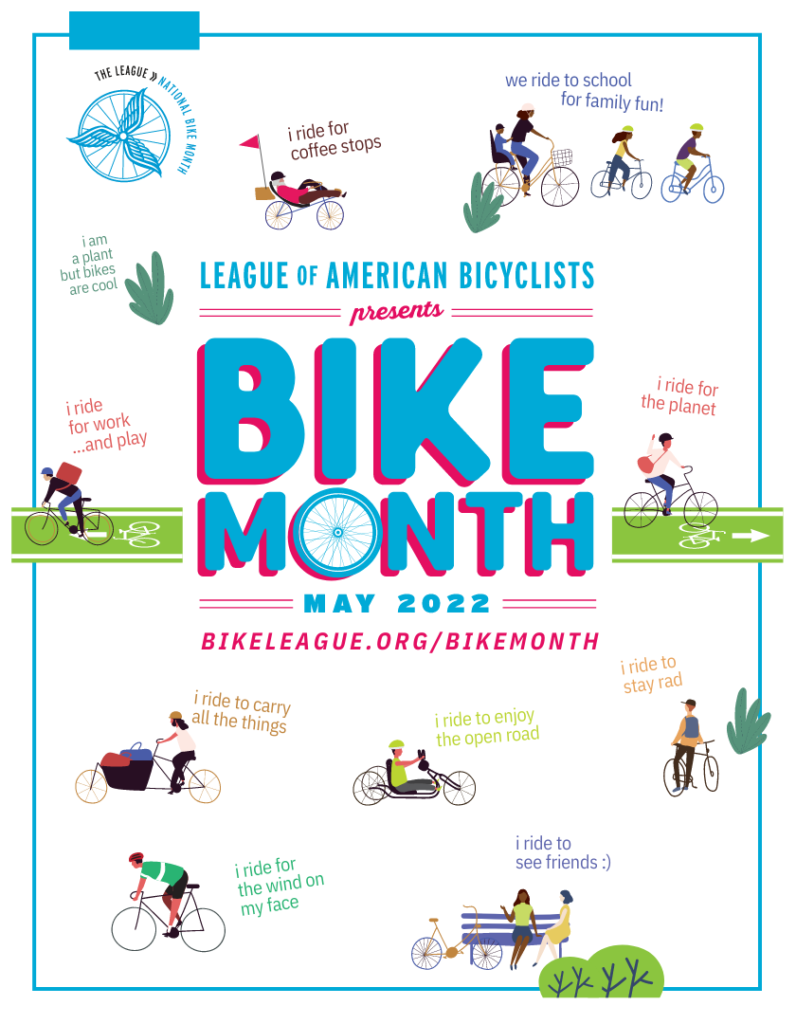 Its here!  The month that, every year is set aside for those of us on two wheels (or sometimes three). Its the month to celebrate and share the joy of the wind in our face (very appropriate if you live in Texas), the friends we have and all the health benefits that go along with it.  This club will celebrate it with the zest we always do.
There are a lot of events around the area and across the country.  STCC, among other things we are hosting and supporting..
May 1. National Ride Your Bike Day!  The day we get to do what we love most!
Wednesday, May 4th is Walk, Bike and Roll to School Day!
May 7.  STCC is hosting a family ride with the City of Frisco at 10am on Saturday May 7, leaving from around the new Bike Mart shop going up in Hollyhock. Oh, and if you can't make that one... there's another on the same day at 1pm leaving from BF Philips Park.   Grab the kids and/or your partner or friend and come join us.  These will be VERY casual paced, with escort from the Frisco PD Bike Patrol
May 18.  Ride of Silence, Frisco.  We have hosted this event in Frisco for the past 12 years.  Not so much a club thing as an opportunity to gather and memorialize those we have lost on bikes, on the road.  Its also a time to recognize those that have been in auto/bike accidents and have been fortunate to survive.  We'll share testimonials and then will be doing a "silent" 6 mile ride to give time for our thoughts and to create awareness for the community.  Our regular rides will leave their normal starts across the city and gather at Toyota Staidum for the start with those joining there. We are scheduled to have Frisco PD Bike Escort for this ride leaving from Toyota Stadium.  This ride is open to all, members and non-members!   [more detail]
May 20.  On the Tachas Trail at the Six Cities Trail connection, on the north side of SRT.  As always, we'll be hosting a refuel station for those commuting by bike to work, school and other destinations.  Snacks and refreshments will be available in the morning and in the afternoon, the plan is for hamburgers and hot dogs.   Stop by on your commute or just ride over, say hey and chat for awhile!  We'll be there from 6:30-8:30am, and from 3:30-6:30pm
Bike Month Proclamations.  Varied times and still waiting for confirmation on some.  Frisco City Council Meeting and The Colony City Council Meeting, both on May 3.  These will include presentation of our donations of bike racks and repair stands to these two wonderful cities.   We are also planning for three others and are awaiting confirmation of dates and times.
These events aren't enough?  Here are some suggestions from League of American Bicyclists on how to celebrate National Bike Month.
There are many other things going on this month, so watch the website, our FB page for updates!   Let's show North Texas what STCC is about!