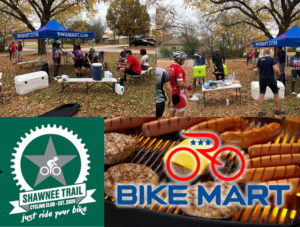 Date: Saturday, March 5th (rescheduled) starting at 11am and going till we run out of food
Location: Bike Mart Frisco, 8820 John Hickman, Frisco Tx 75034
We told you we'd be back!  STCC is helping Bike Mart Frisco celebrate their wonderful and loyal customers with free burgers and hot dogs, fresh grilled with all the condiments you can ask for.   STCC will be manning the grills and have things ready for you after you've spent time helping them clear the shelves of all their cycling accessories, or maybe even pick up a new bike.  We also welcome any of you that want to drop by after or during your rides.
You'll get a chance to meet some of our smiling members and they will be happy to talk your leg off about cycling in the area and our great club!   Thanks to our long time Platinum Sponsor Bike Mart for making this community outreach possible.  Like last time, we'll have our racks set up so you can store your back while you feed your face and socialize!
See you there, rain or shine!