September is going to be a fun month for STCC! Our big external fundraising event is coming up on September 30, our fundraiser for the Scottish Rite Children's Center. We'll have silent auctions, rides, kids events and food. And to kick off the fun, we're inviting you to play Bike Bingo. Download the bingo card, look it over and complete as many items as you can before Sep 30.
Before you can check an item off though, you have to take a selfie and send it to news@stcycling.com telling us your name, date and which item you've joyfully completed.
There's not an age limit on participation and we encourage you to get your children involved!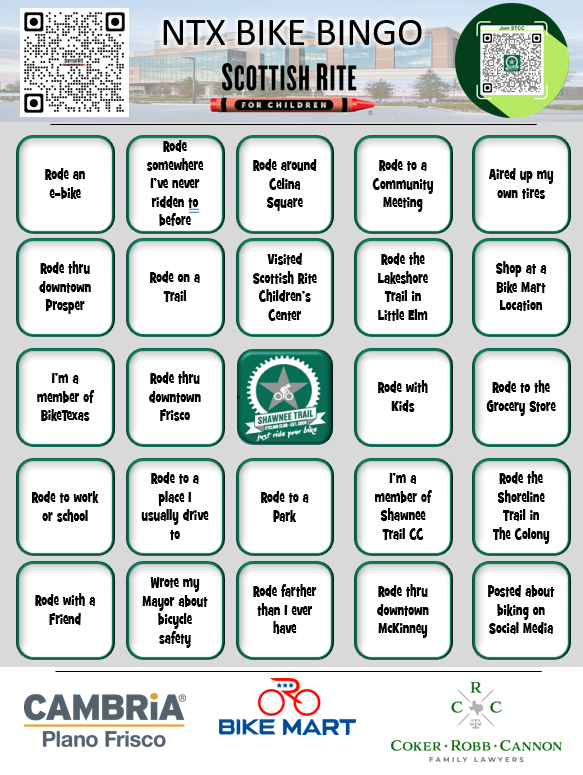 Bingo Notes
Free Square. EVERYONE gets to cross of the Shawnee Trail CC logo in the middle! Our gift to you!
Free squares (sort of). If you're a member of Shawnee Trail CC and/or a member of BikeTexas, cross these off today! If not, you can join anytime and check these squares off.
Wrote my Mayor about Bicycle Safety. For the item asking you to write your Mayor... when you send your email, CC in news@stcycling.com. We've tried to provide the contact info for most Mayors in the vicinity to give you a leg up.
Throw in some complements as to how your community supports cycling or make constructive suggestions for improvement, but please keep your message positive and FUN!
Mention you ride your bike and are with Shawnee Trail Cycling Club
Visited the Scottish Rite for Children. This doesn't have to be an official tour, just drop by and say hi at the facility, take a selfie in Frisco, Dallas or the Star.
Shop at a Bike Mart location. There are now 7 locations around the metroplex, [Find a Store] to find the one closest to you and include some of the employees in your selfie (not required, but hey...)
Rode Downtown (several communities). The map below will help you locate the spots
Find My Mayor's Email
If we don't have your community listed, let us know
Allen, Baine Brooks, bbrooks@cityofallen.org
Anna, Nate Pike, npike@annatexas.gov
Aubrey, Chris Rich, crich@aubreytx.gov
Celina, Ryan Tubbs, rtubbs@celina-tx.gov
Coppell, Wes Mays, wmays@coppelltx.gov
Dallas, Eric L Johnson, Contact Form
Fairview, Henry Lessnor, Mayor@FairviewTexas.org
Frisco, Jeff Cheney, jcheney@friscotexas.gov
Lewisville, TJ Gilmore, tgilmore@cityoflewisville.com
Little Elm, Curtis J Cornelious, ccornelious@littleelm.org
McKinney, George Fuller, mayor@mckinneytexas.org
Plano, John B Muns, mayor@plano.gov
Princeton, Brianna Chacon, bchacon@princetontx.us
Prosper, David F Bristol, dbristol@prospertx.gov
The Colony, Richard Boyer, mayor@thecolonytx.gov
Richardson, Bob Dubey, Bob.Dubey@cor.gov