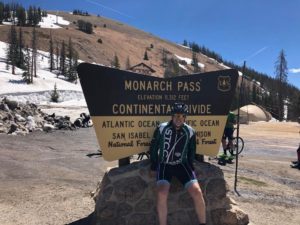 Join Jeff Frayser for an hour long review and Q&A session for any member interested in riding this wonderful event. We hear a lot from Jeff Frayser, longtime member and current club Vice President, about the annual Ride the Rockies Bicycle Tour. This ride is back for its 36th time and Jeff is headed back for his 22nd run (first one in 1994). When Jeff added a FaceBook post about this ride earlier this year, there seemed to be some interest, so we asked if he could hold a session to talk about his experience, share some of his lessons learned over the years and answer any of your questions you might have.
The route will be announced on February 18th so we thought it would be great to have this session shortly after that. Its a Zoom call hosted by Shawnee Trail Cycling Club for our members on Sunday February 20th at 1pm and its free!
Ride the Rockies is a multi-day event with a different route each year and will run this year from June 11-17. From what we've heard it will not disappoint! Please take a moment to register and we'll send you the link to join the call! You can find the registration in our club store or just follow the link below.
Date: Sunday February 20 @ 2pm
Location: Remote, this is a Zoom call
Who can Attend: This session is provided for STCC members
Want to become a member so you can take advantage of events like this, Become a Member
Registration for the ride will be open soon, Go Here
Here are a few pictures from past events. You might even see Jeff in some of these