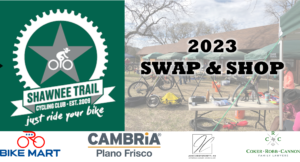 Are you like the rest of us and over the years have picked up every cycling gadget that's come along or have a closet full of jerseys that you just had to have but never wore (or only wore once)? And now you have closets full of extra bike gear laying around the house gathering dust? Extra cranks, pedals, wheels? Your "useless" stuff is bound to be someone's treasure! Turn that unused inventory into cash, or different stuff, at our 2023 STCC Swap & Shop, running alongside the Chili Cookoff. Come enjoy some good eats while you shop.
This years SWAP & SHOP is brought to you by Shawnee Trail Cycling Club. So much stuff for you to buy or trade! You know how the good swap meets are... you always end up going home with more than you brought. What's up with that?
Date: Saturday March 25, 2023 from 10:00am-2:00pm
Location: You'll be setting up at Bike Mart Prosper-Hollyhock, 16702 Hollyhock Rd, Frisco, TX 75034
---
Eligibility
TO SELL/Swap
You must be a current member of Shawnee Trail Cycling Club to set up and sell/trade. NO CHARGE! Another great reason for you to join and support one this great organization.
To get details for setup, follow the link below to let us know you're coming. Send us pictures of some of your merchandise that we can share. Prior to the event, we'll put out some teasers to make sure folks know what goodies are going to there! This will also put you on the priority list to get one of the available tents and tables that will be set up. There is no guarantee there will be enough setup items, so we encourage you to bring your own tables.
TO BUY/Swap
Anyone can buy or swap for items from those set up! For trades, these must involve one of the club members set up to sell.
Some of the stuff you'll see!
As we get them, we'll post pictures of some of the items our members plan to bring for swap or sale. Revisit often and note this is only a sampling of what you'll see.























---
For questions, email shopnswap@stcycling.com.
---