Here's a Challenge you'll have no problem with -  Just Ride Your Bike!
The National Bike Challenge  is a nationwide event held each year, operated by League of American Bicyclists . This event is free and allows cyclists at all levels to record miles ridden and participate in a friendly competition against other cyclists, teams, communities, schools, counties and states.
In our hosted area, there are approximately 1.5 million people and it includes the cycling centers of Corinth, Denison, Denton, Frisco, Lewisville, Sherman, Muenster, McKinney and Plano – not to mention many, many others. We're encouraging your clubs and organizations to form teams (or just start one for you and your friends) and then let the competition begin. Our goal for the local challenge is for 1,000 cyclists – do you dare?
The time for the National Bike Challenge 2017 is drawing near! The event starts May 1st and runs through Sep 30th.
The timeframe is the same. From there though, this year is bringing new and exciting things for the Challenge.  An old friend is back as the League of American Bicyclists has once again assumed the driver's role for the event.
You must register this year!  I know in the past your information has carried from year to year - this year we're starting from scratch.
The National Bike Challenge has a new website, to be launched the first week of April.  There's a new focus on collection – ALL miles will be collected from the Strava database, loaded and stored into the newly developed Challenge database.  From there, you'll see new reporting and leaderboards.
What else?  Oh yeah, Shawnee Trail Cycling Club will again be an Advocate Host of the Challenge for the fourth straight year.  In our assigned area we've seen triple digit annual growth in participants, mileage and climbing – and here we go again!   For the third year in a row, our local responsibility is the four counties where we spend most of our time on the bike.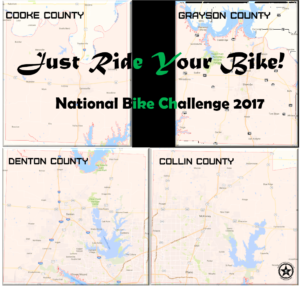 Collin County. Includes Allen, Anna, Frisco, McKinney, Murphy, Plano, Princeton, Prosper and Wylie
Cooke County.  Includes Gainesville, Valley View and Muenster
Denton County.  Includes Argyle, Aubrey, Denton, Highland Village, Lewisville, Flower Mound, Justin, Sanger, Pilot Point, The Colony and Little Elm
Grayson County.  Includes Denison, Gunter, Van Alstyne and Sherman
Be sure to enter ACCURATE information when registering.  This shows in statistics for your community that are used in nationwide lobbying efforts - don't let your community down!
So head to the National Bike Challenge website, sign up and use April as practice - they'll be cutting the ribbon May 1 - don't wait.
Follow our advocate challenge on Facebook and on this page.   Let's get out and Just Ride Your Bike!