Cranky Tue STCC/PBA Joint Ride
August 6, 2019 @ 6:30 pm

-

8:30 pm
Event Navigation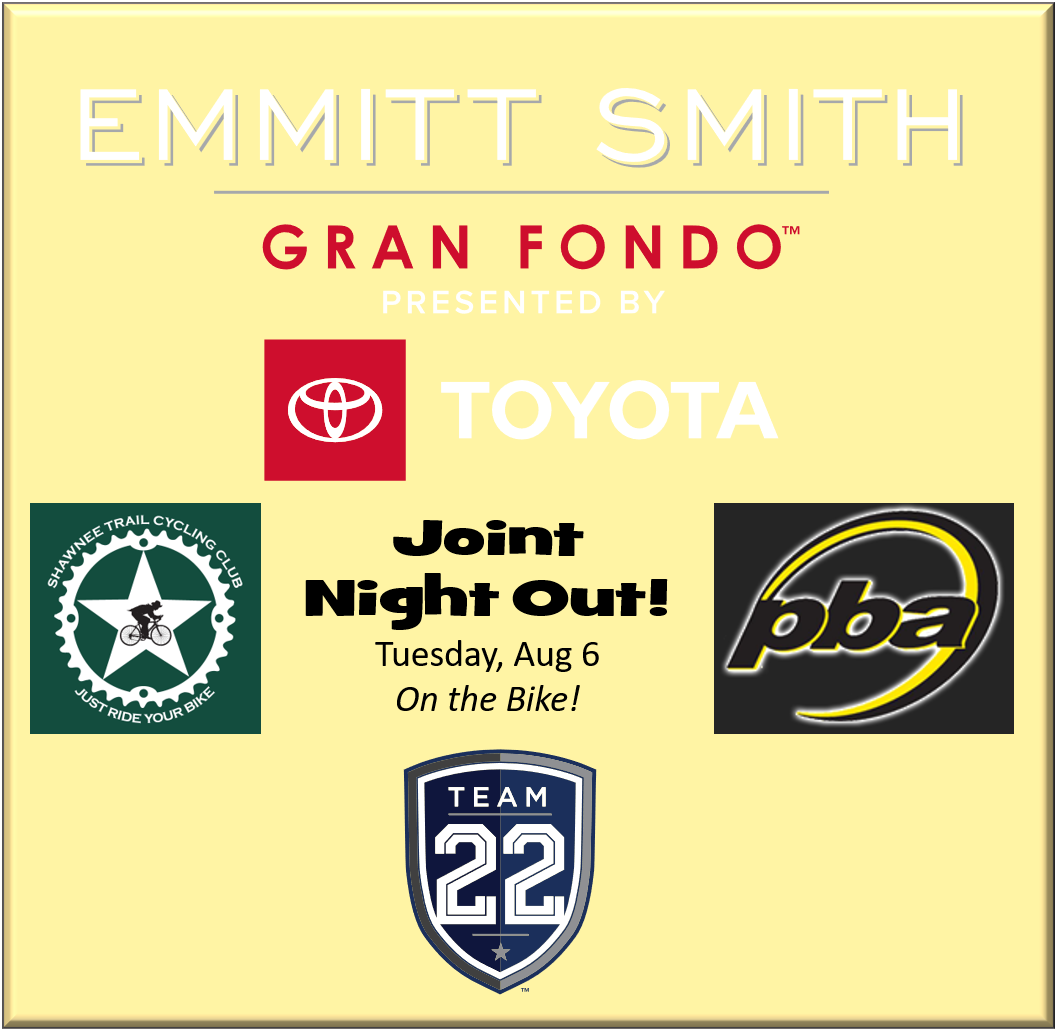 We are excited to welcome our friends from PBA to our Cranky Tue for a joint ride to promote the upcoming Emmitt Smith Gran Fondo.
We are also being joined by the good folks from the Emmitt Smith Gran Fondo, including Emmitt himself for a civilized jaunt through west Frisco.
The Gran Fondo is coming up on September 14, rolling from Southfork Ranch. Take time to register today for that event.
A good chance for us to show our hospitality, generosity and commitment to community and safety on our rides.
Rides will be run under standard STCC rules. For those guests from PBA that haven't ridden with us much, its important to know some basic differences prior to starting the ride. Hope this helps and so look forward to seeing you out on Tue.
There will be photo opportunities prior to the ride. Our special guest will only be riding in a single group. If that is not your normal pace group, please do not join that group just to be closer to Emmitt. This will cause safety issues for the ride and you don't want to be known as the person that "Broke Emmitt". Demonstrate your desire for safety and fun on the ride and all will be good.
Waivers - non-STCC members must sign our liability waiver prior to each ride. If you aren't a member, you must come to the ride start.
Group size and split - to minimize our impact on traffic, community and increase safety - STCC has a maximum group size of 30. At that point, we split groups. Stay with the group you're assigned. DO NOT change groups as we work to give everyone the ride they came for.
Things to note, On the road
Leaving from a stop - Our Ride Leaders, once clearing an intersection, will ease the pace and wait for our sweepers to give the ALL ON signal. Any questions about that from the front use ALL HERE? as the query
Changing Lanes - All our lane changes are controlled from the rear of the group. Our evening routes are static, so its rare any request comes from the front, but when it does, its a simple raise of the LEFT arm at a 45 degree angle as a signal to the rear that we need to get over. From that point, the sweepers will verify its safe to get over, move to the left lane and - once any cars have passed the front of the group - call TAKE THE LANE.
Riders dropping from the front - the call is RIDER COMING BACK LEFT (RIGHT) and the group should make room on the appropriate side for that rider to come back safely without changing lanes. Oh, and its customary to give a big thank you to the person that's been hauling you through the wind.
Riders falling off the back - ALL STCC rides are no-drop (no negotiation on this). If a rider is off the back and struggling, call GAP to the front of the group. The Ride Leader will make the decision as to whether to slow the group or to go back and take care of the struggling cyclist (including moving that person to a more appropriate group). We never intentionally leave anyone behind on dark city streets. Not safe and if they are struggling due to a medical condition can be dangerous
GoZones - STCC has pre-identified sections on most every ride where our participants can stretch their legs and go as fast or as slow as they want. It lets the stronger riders get some much needed effort in and feel more comfortable keeping the groups together outside those GoZones. Depending on your group, you will have 1-3 of these on Tuesday. All GoZones have a designated regroup point.
GoZone at The Tribute - Specifically for our long GoZone to The Tribute, this gozone ENDS at the 20mph speed limit sign where we go from 4 lanes to two.  Our regroup is the trailhead on the way back. There are restrooms and water fountains here. DO NOT stop at the trailhead on the way to the clubhouse. DO NOT make a left hand turn and cut short.  This is a multi-lane road with traffic to and from the golf course and can be dangerous. Follow the route, go all the way to the turnaround. 20mph is not a club rule. Its the law! Watch for golf carts and pedestrians in this area!
Frisco Lakes speed limit - Frisco Lakes is a senior community. Between the golfers and the residents, you will likely see multiple golf carts on the road or crossing it. Because of this and pedestrian crossings, STCC has mandated a maximum speed of 24mph through this area. No tolerance.
Let's get out and have a good time and work out some of that "Cranky"
If you have any questions, don't hesitate to touch base with us.